TRAVEL SIZE COFFEE SCRUB COCONUT COCAO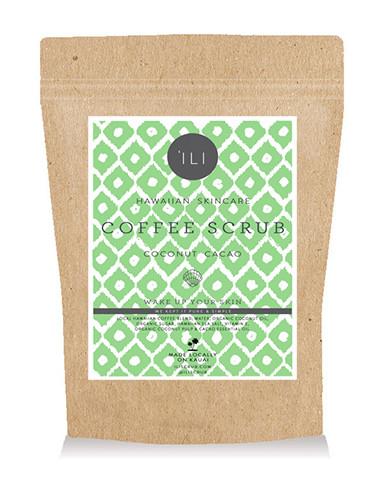 You're going on vacation. Get dull, winter skin packing with my Ili Coconut Coffee Scrub. 
Forget what you have heard about chocolate being bad for your skin. Being a superfood, raw cacao is loaded with antioxidants that our skin craves and is a vital component in helping to repair damage to the skin. Our brand new coconut cacao scrub pairs all the goodness of chocolate with delicious moisturising coconut for a tasty exfoliating experience.
WHY COCONUT CACAO COFFEE SCRUB?
Cacao blocks out free radicals helping with premature ageing due to being chock full of skin friendly vitamins and minerals such as magnesium, vitamin C and omega 6 fatty acids. These vitamins help to increase blood flow and promote cellular healing - two very important processes of the body that boost a youthful glow. Pair this with protein rich coconut for an enhanced scrub experience. Coconut improves skin barrier functions and is rich in proteins. This is in addition to its excellent moisturising and anti-inflammatory properties, which make it a beneficial treatment for skin conditions such as eczema. 
COCONUT COCAO COFFEE SCRUB INGREDIENTS:
Our handcrafted coconut cacao coffee scrub is made with organic local Hawaiian coffee blends, water, organic coconut oil, organic sugar, Hawaiian sea salt, vitamin E, and essential oils.